Hvornår:
7 oktober , 2022 kl. 18:00 – 22:00
2022-10-07T18:00:00+02:00
2022-10-07T22:00:00+02:00
Hvor:
På Stejlepladsen lige ned til havnen ved siden af Bådelaug Syd-West. Følg ydermolen og gå ind af den røde låge.
Bådehavnsgade
2450 Sydhavn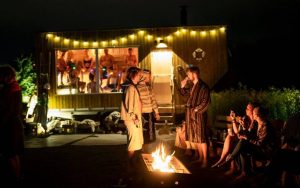 We do we will do 4 Hours of sauna aufguss, approx 10-12 sessions, and you are guaranteed 5 aufguss sessions (more if there is room in the sauna) so that every approx. 20-25 min. a new aufguss starts.
We are celebrating sauna and our love for sauna aufguss, and that we get to share this with all of you.
Tickets are 300kr and you get:
– 5 aufguss (possibly more) by taking 1 session, waiting one session, taking 1 session, waiting one session and so on.
– bon fire
– body scrub
– 1 glass of Kombucha from Kombucha Inc
– MobilePay Self service bar with kombucha and beer
– Snacks
– Limonade
– Storage for your clothing
– access to ocean dipping
Please remember that there are no toilet facilities as we are an outdoor mobile sauna trailer. However, there is plenty of nature around.
Important: No refunds and tickets are non-changeable. Feel free to sell your ticket to another sauna lover via the Facebook event if you cannot attend after all.
The sauna is a non-sexual space and clothing is optional. We have a small tent where you can change and leave your clothing in to avoid the potential rain of the Danish weather. Please bring a waterproof bag to make sure your clothing stays dry. It can be a good idea to bring 2 towels (1 to cover your skin to protect the sauna wood inside the sauna and 1 towel to dry after sauna use), a bathrobe, slippers etc. to stay warm in between sessions.
Please note: It is required to bring 1 big towel to use inside the sauna to participate in the event. If you forget you can rent one for 20kr on site.
We welcome all genders, ethnicities, races, beliefs, sexual orientations and identities.
Sauna and bathing if of course at your own responsibility and JUST SAUNA cannot be held responsible for use of either activity.
See you in the heat